Their Stories
2018-2019
Some pieces of Huh's recent work are to be presented at
Collect 2019 ( February 28 to March 3) at
Saatchi Gallery, London. The artist will be present himself
at the stand of KCDF gallery
during the event.
Square shape plates, 2018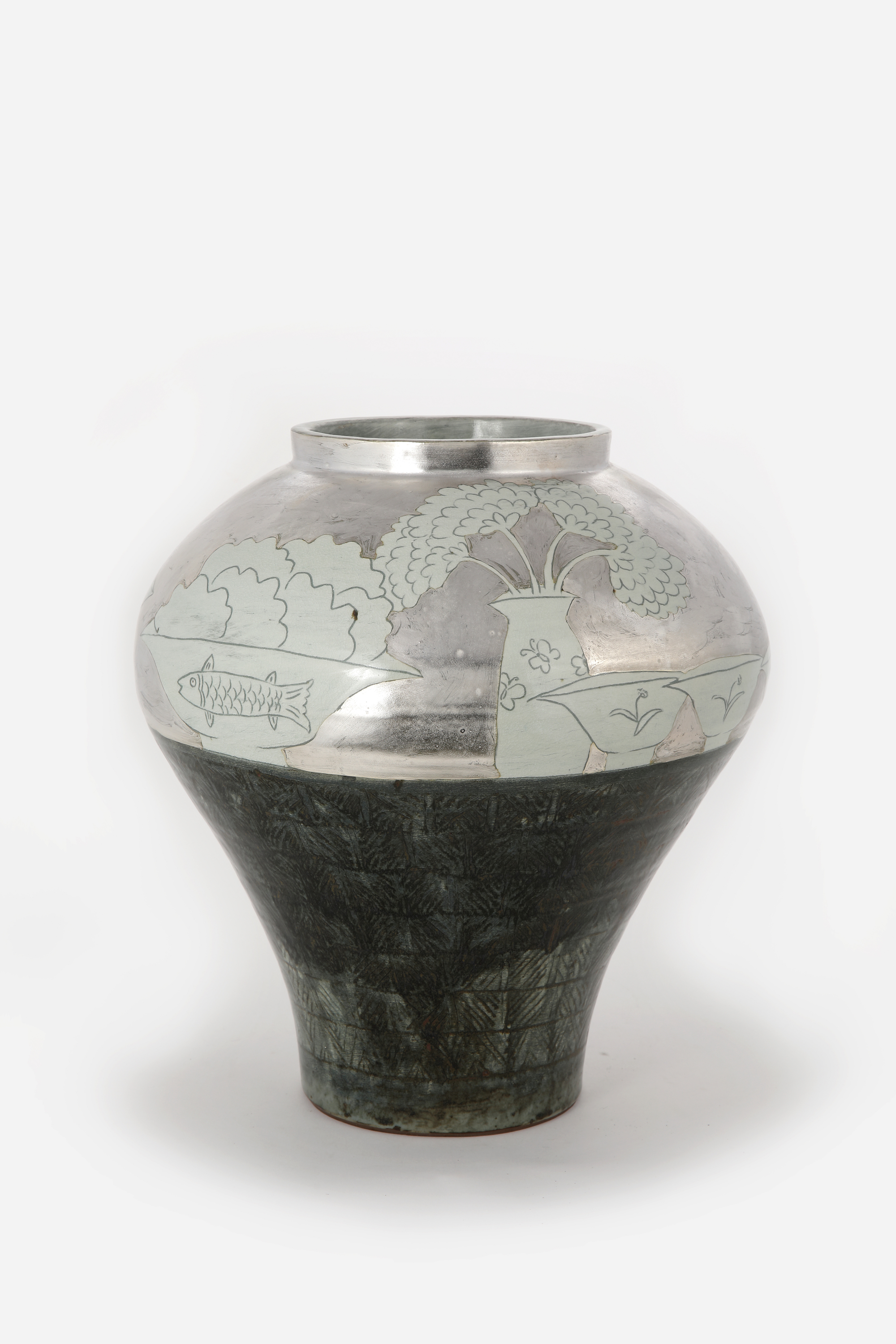 Buncheong vase with still-life design, 2018
white slip, sgraffito, intaglio, silver paint, underglaze iron-brown
Buncheong vase with sgraffito peony design, 2018


Bunchong Punju with birds and flower design, 2018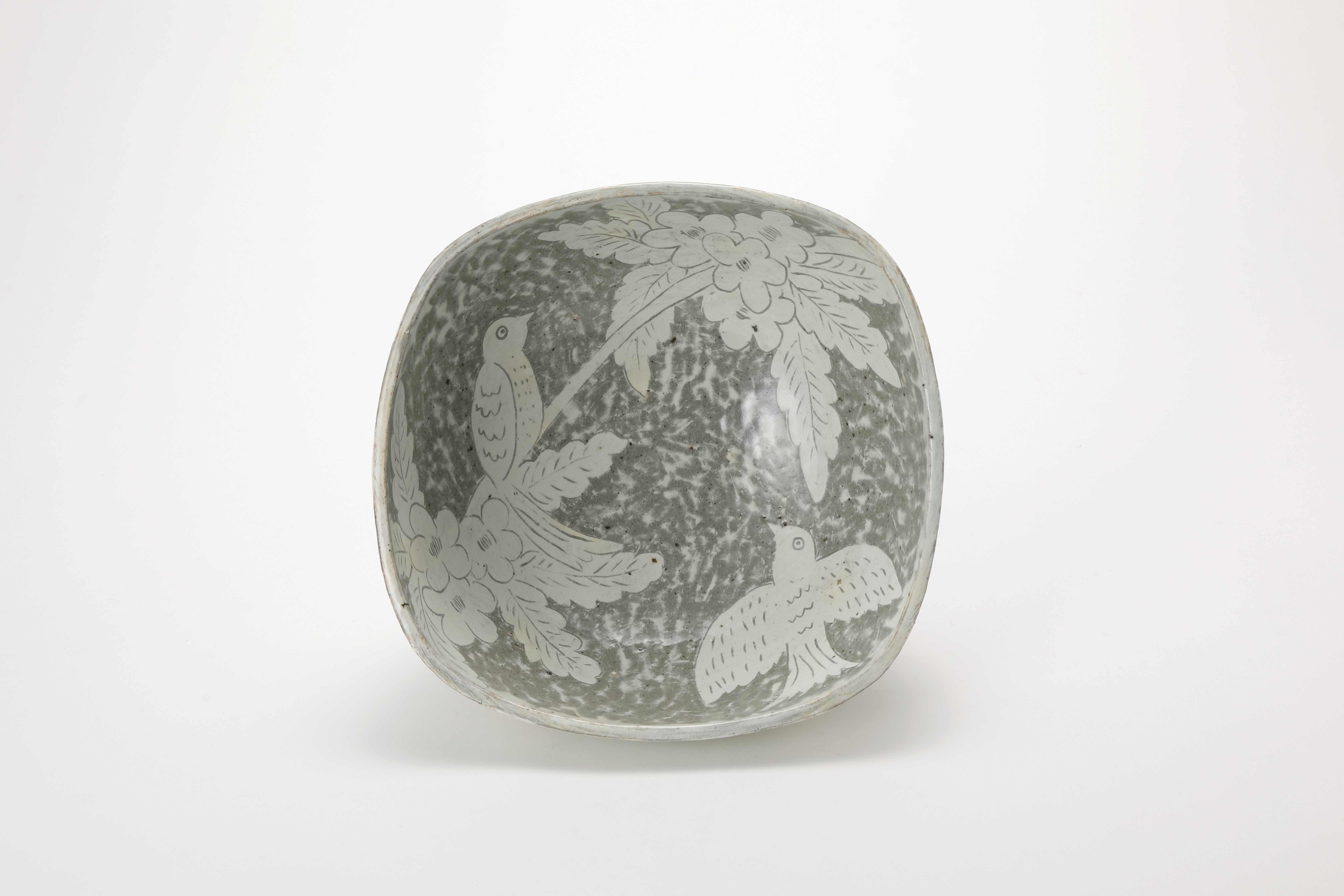 Bunchong Punju with flower and butterfly design, 2018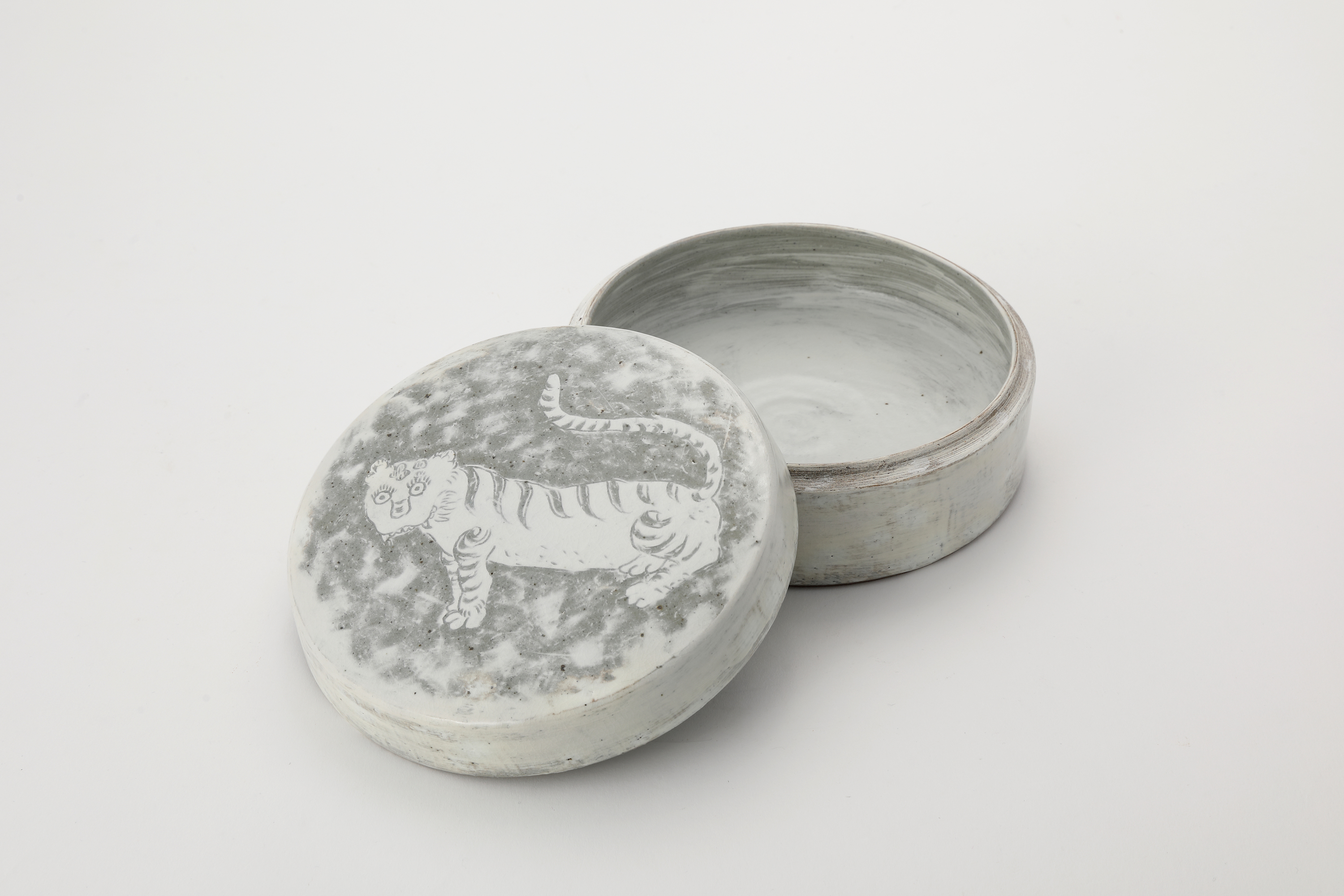 Lidded box with tiger design, 2018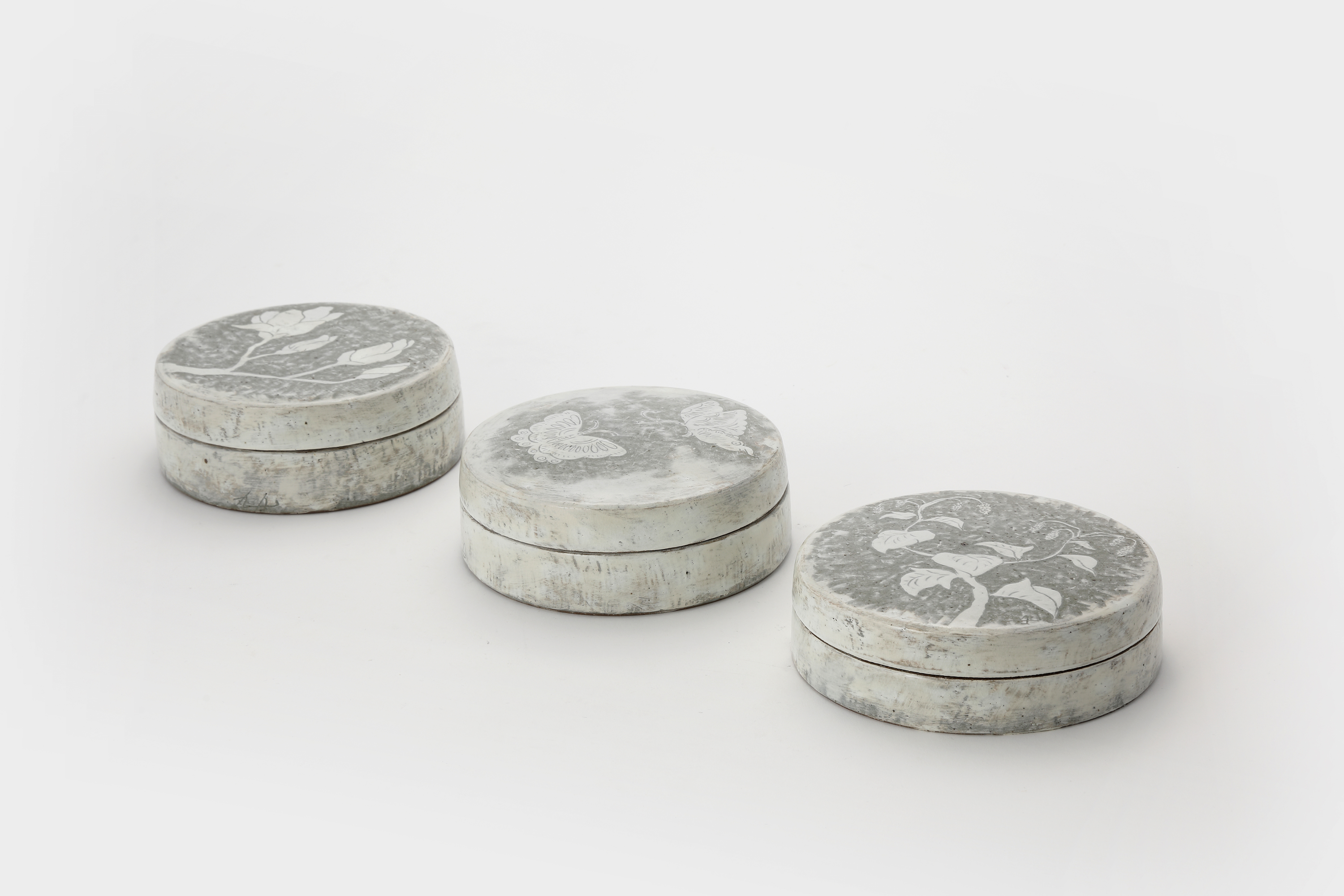 Lidded boxes, 2018
Buncheong jar, 2018

Buncheong jar, 2018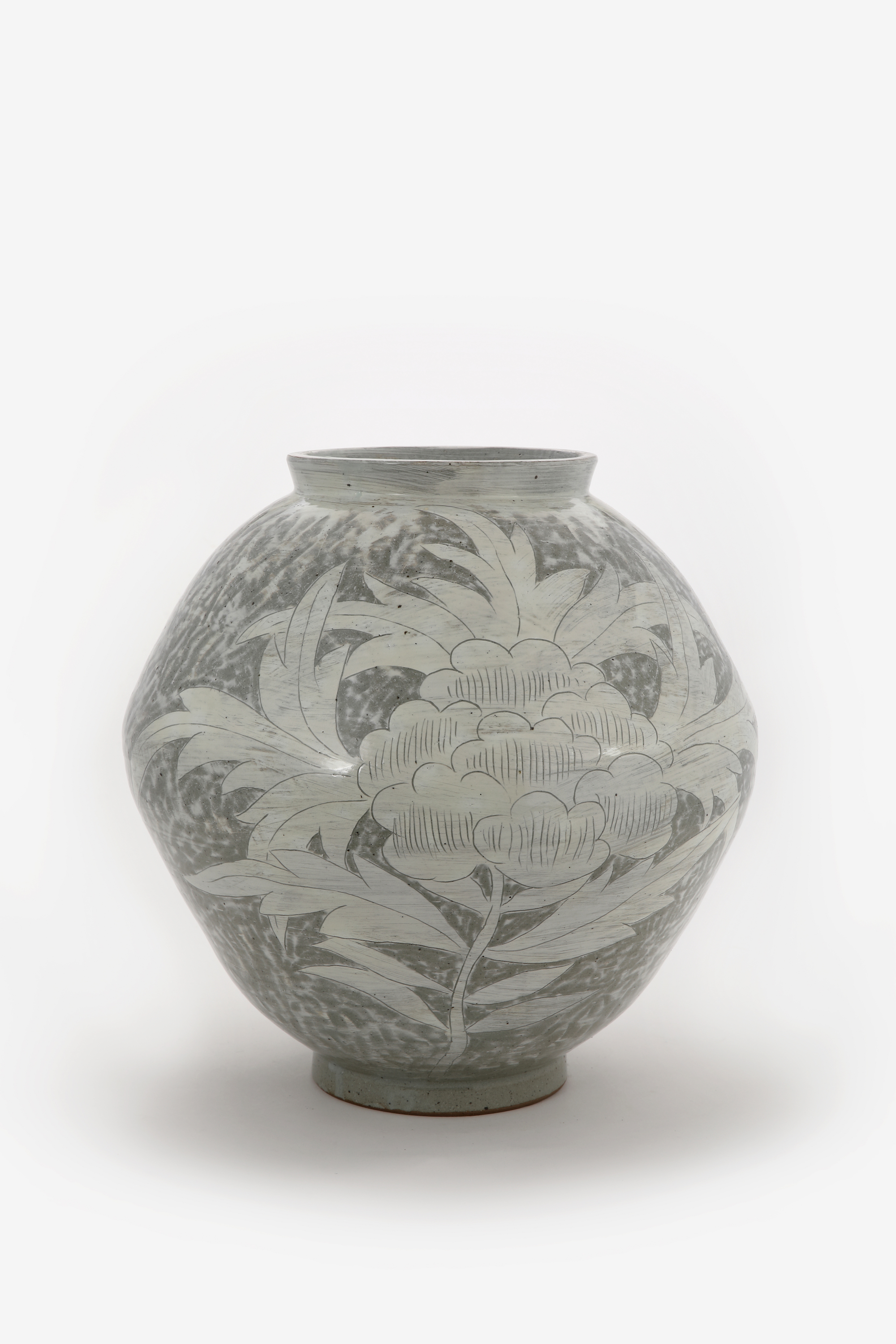 Buncheong stool with staccato design, 2018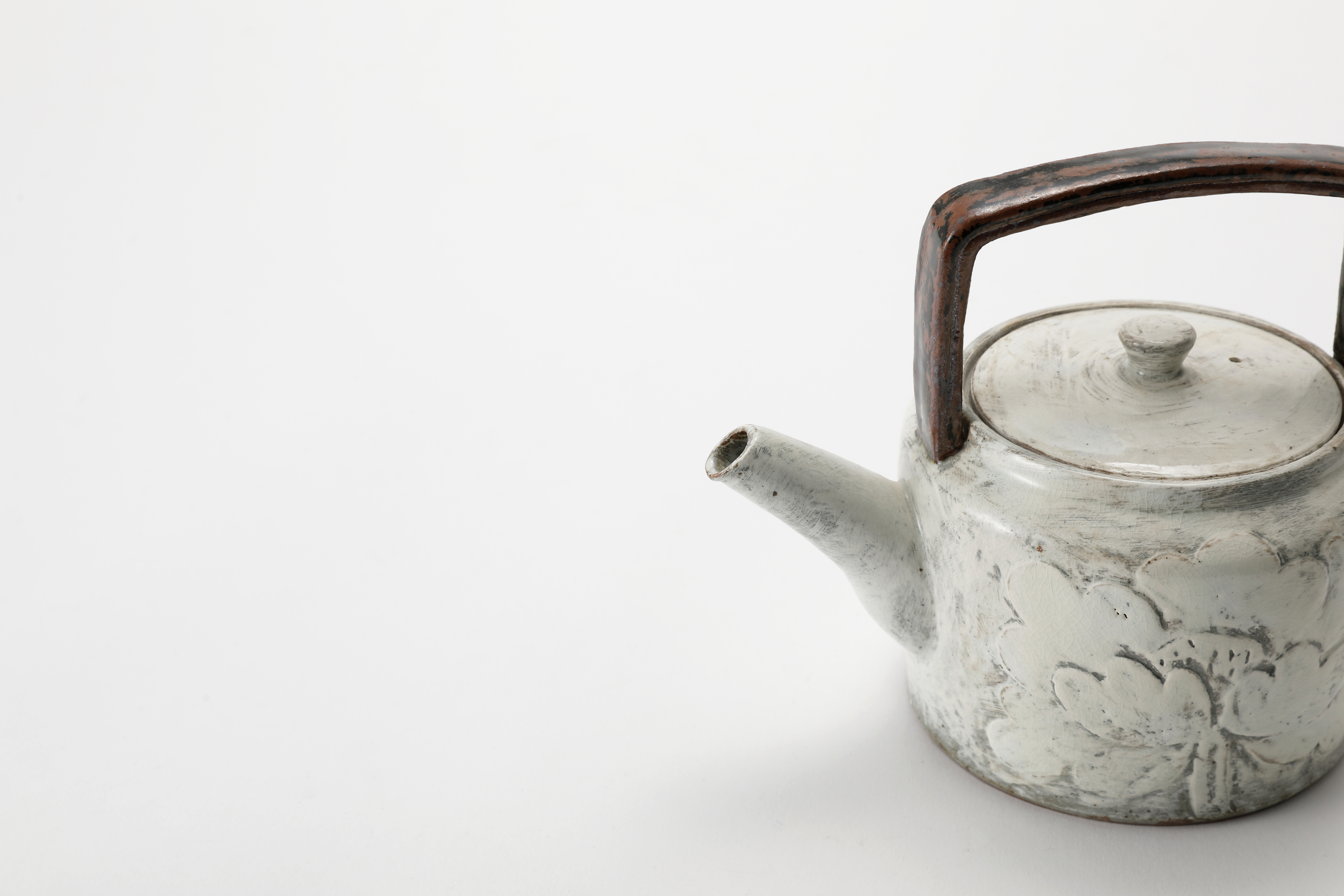 Buncheong Teaware, 2018
Théatre
Maison&Objet Paris

2017
Huh Sangwook presents an ensemble of teaware to French public and ceramic lovers on the occasion of Maison & Objet Paris 2017.

Serene but energetic, the new edition of tea bowls, tea cups, tea canisters and teapots suggest a sublime moment of time for refreshment. The dreaming fishes, talking frogs and chattering birds lead us by hands onto the stage, to an amiable tea ceremony.

Buncheong Dawan(Tea Bowl) with Guiyal(brushing) Design,
Buncheong Tea Canister, Buncheong Staccato Tray, 2017
Maison&Objet Paris 2017
September 8 - 12

Meet Huh Sangwook's Théatre at the stand of
KOREA CRAFT & DESIGN FOUNDATION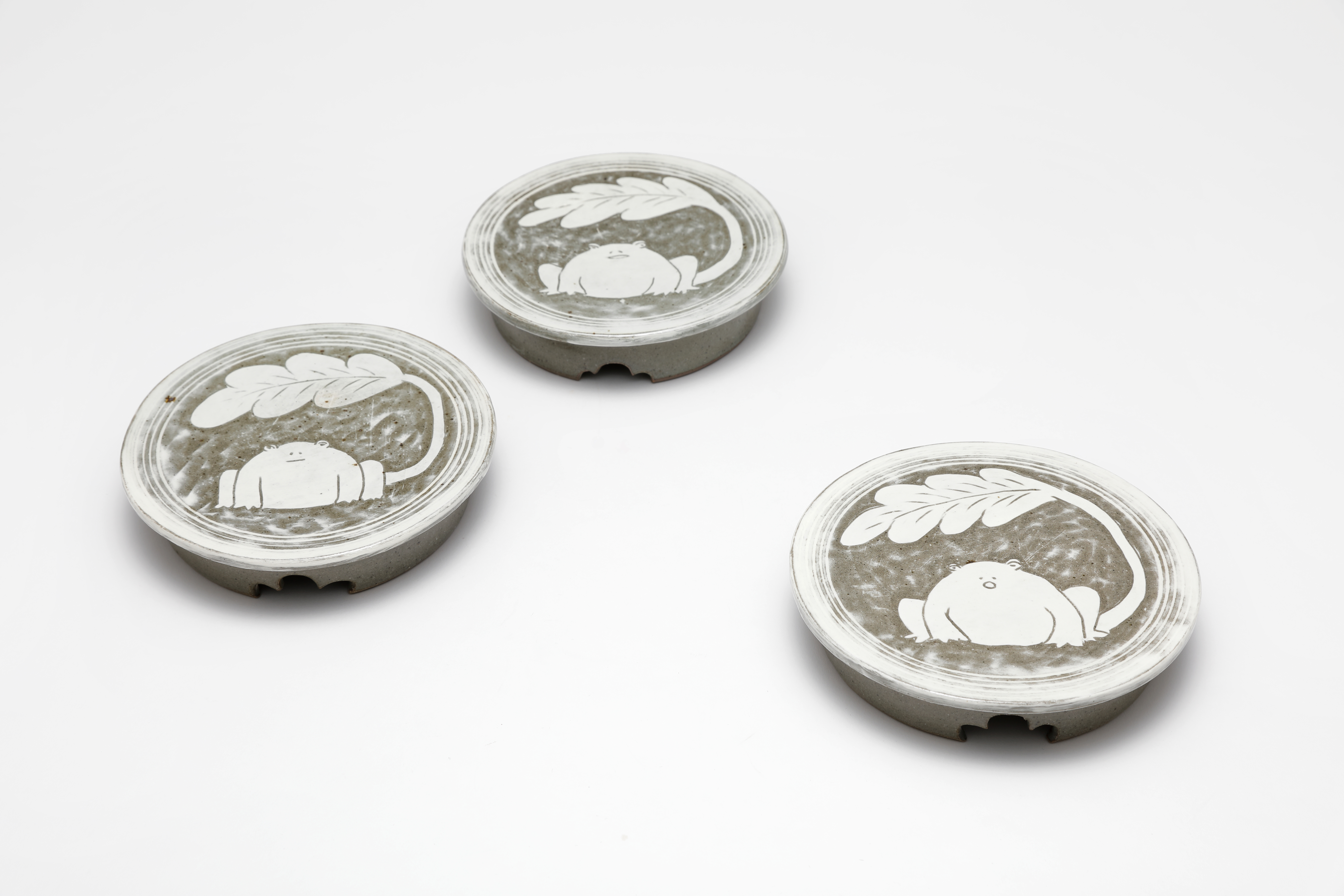 Frog Plates, 2017
∅170x40 mm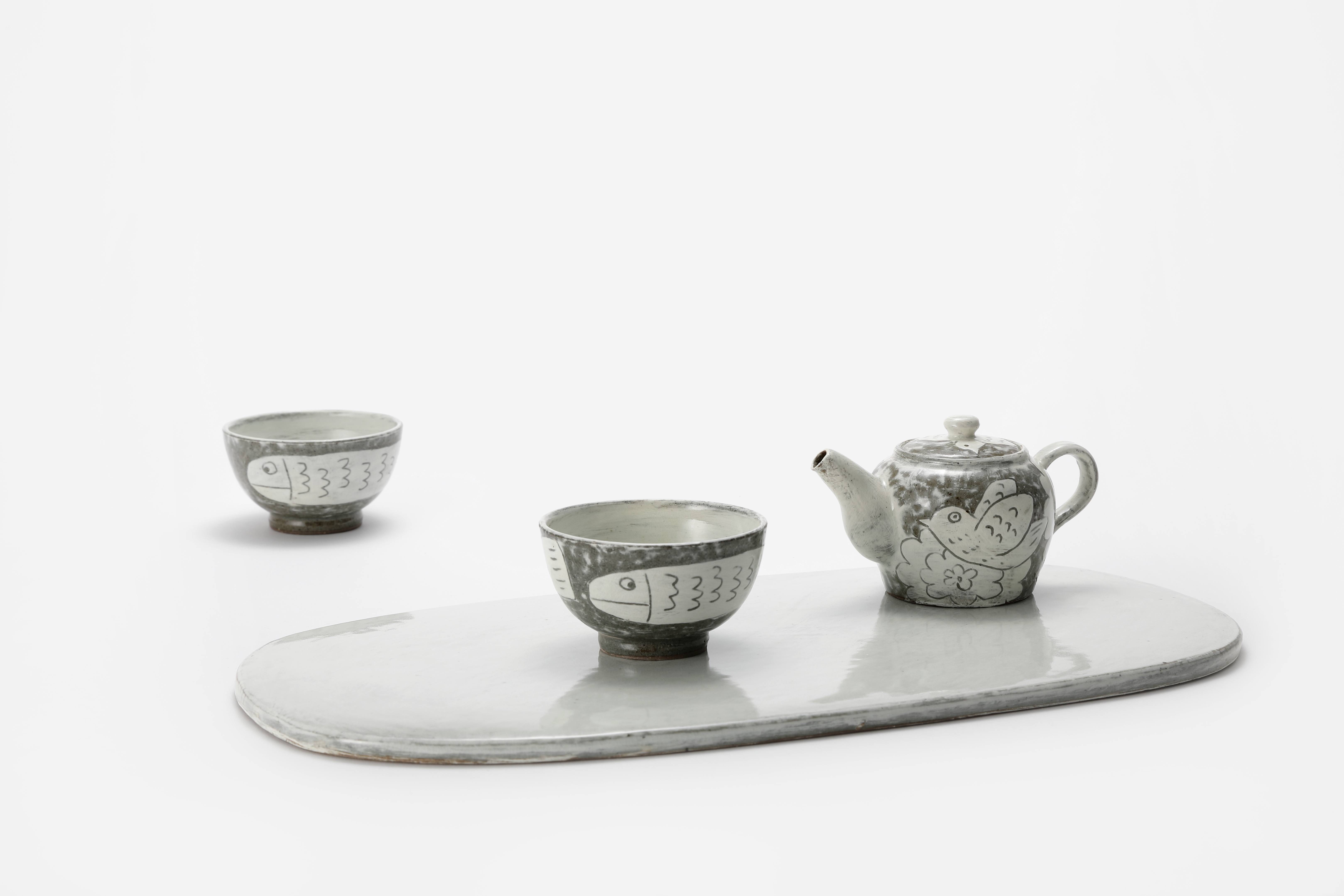 Oval Tray, 2017
430x230x20 mm

Fish Tea Bowls, Bird and Flower Teapot, 2017∅170x40 mm, 135x85x85 mm

Bird Teacups, 2017
∅ 70x70 mm each
Teapot with Sgraffito Fish Design, 2017
160x110x110 mm

Punju (Large Bowl) with Flower and Bird Design, 2017
270x270x140 mm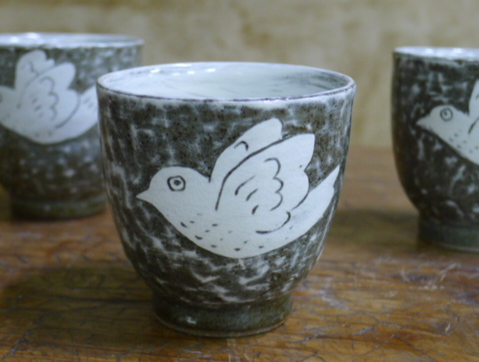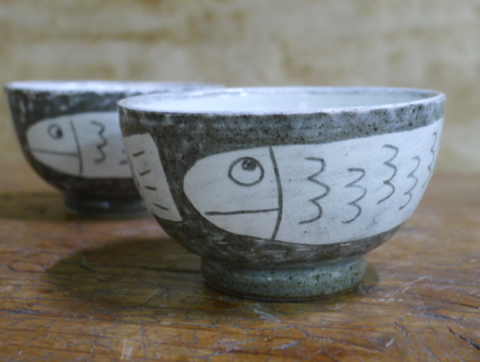 STACCATO
2016-2017

In his solo exhibition held in 2016, Huh Sangwook launched a new series of Buncheong objects applying sgraffito patterns, STACCATO. While the sgraffito technique is usually applied when Huh creates a wide face or drawings on the surface of each object, the bakji pattern of this series of work, covering and vibrating the surface, represents staccato : both its visual form as result and the rythmn between scraping motion and touch on this fingertips as process, plus even the actual sound of engobe scraping movement. The series has been evolving into a dynamics of textures and colors through the artist's intuitive rendering of surroundings.

Installation view, KSD Gallery, Seoul, 2016

STACCATO Wall plates, 2016

STACCATO - Still Life, 2016
∅ 430x60 mm
STACCATO - Flower, 2016
∅ 430x60 mm


Variations of STACCATO, 2017
STACCATO Wallplates, 2017
STACCATO Teaware (Water cooling vessels), 2016
STACCATO Cups, 2016
STACCATO Teaware, 2016


Beyond Stools

2015 - 2017

They look like stools at first galance. You may indeed sit on these objects that radiate dynamic energy, but in a moment of time, you come to realise there being itself. In your small garden, in your comtemporary library or beside your bright bathtub, they are to be contemplated, touched and embraced, just like your adored pebbles in a mountain stream.

These elegant objects are handbuilt by Huh himself, and are applied the fameuse bakji technique to infuse life into dreaming fishes, lotus pond and the rhythm of staccato.


Detail of staccato graffito, STACCATO, 2016
Buncheong clay, white engobe, sgraffito and intaglio
Installation view from STACCATO, Huh's solo exhibition at KSD Gallery, 2016
Buncheong clay, white engobe, sgraffito and intaglio

Variations, 2017



Huh applying engobe to the surface of buiscuit body, 2015
Installation view from THE PEONY GARDEN, Cheonggju International Craft Beinnale, 2015
Sabalcafé
Bowls for Coffee Ceremony
2014-2015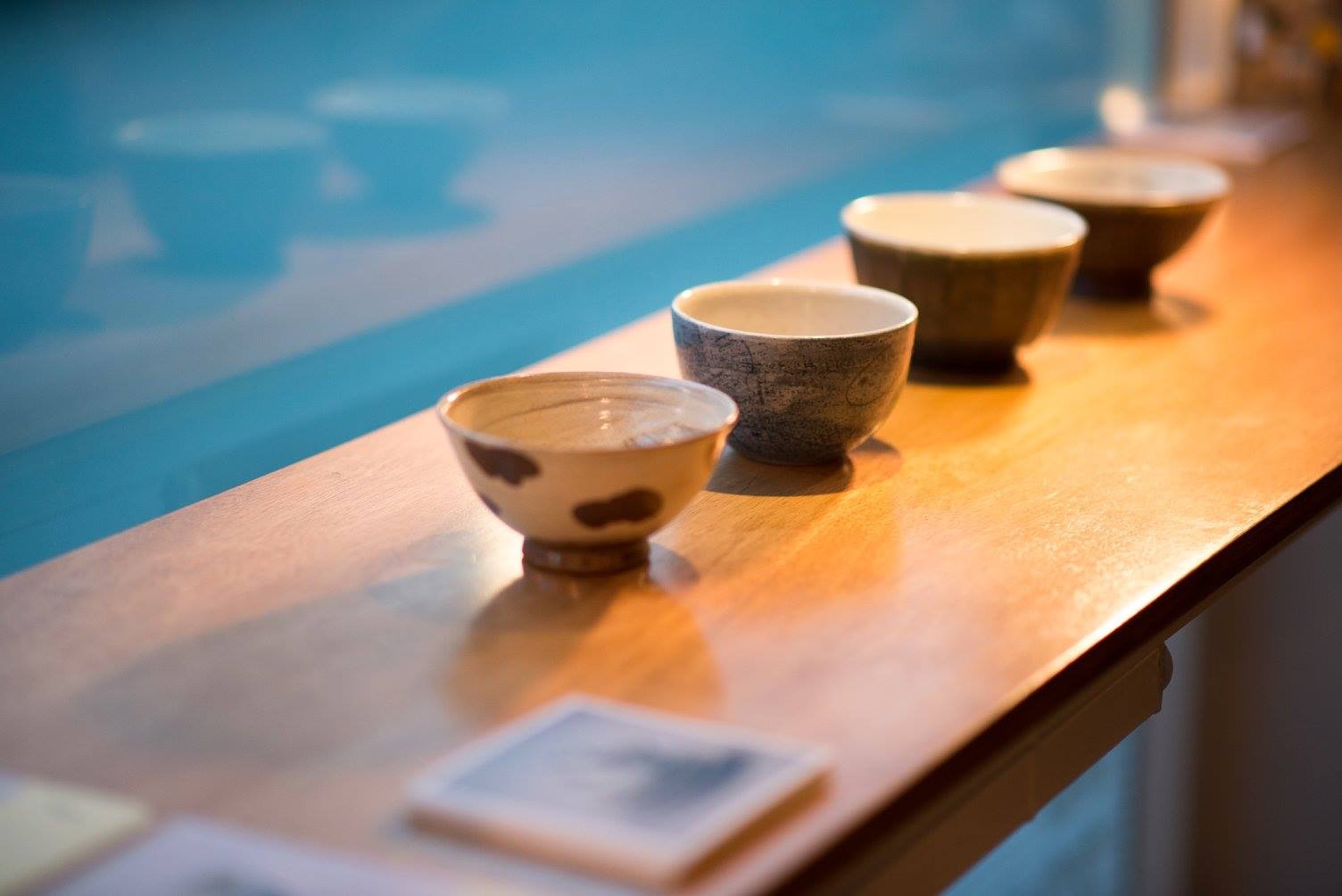 Sabalcafé
forms a part of the interdisciplinary project series which brings together ceramics, food and culture, suggesting new cultural trends that enrich our contemporary lifestyles. This project focuses exclusively on designing a coffee ceremony, in which audience can experience the enjoyment of craftsmanship of two masters of ceramics and coffee.
Instead of a mug cup, this coffee ceremony suggests a
sabal,
which means a bowl in Korean language, as a vessel for serving hand-dripped coffee. One sabal of coffee is to be cupped in two hands, which let us feel the warmth and sedulous efforts of these two craftmen : Huh Sangwook, one of the most favored ceramic artist in Korea and Q, a coffee master who has been exploring all kinds of senses for coffee degustation.
extraits from http://sabalcafe.tumblr.com
2014


Four Bowls for Sabalcafé, 2014
(from left) Grooving Iron, Time Scape, Breezy Flow, Soil Flower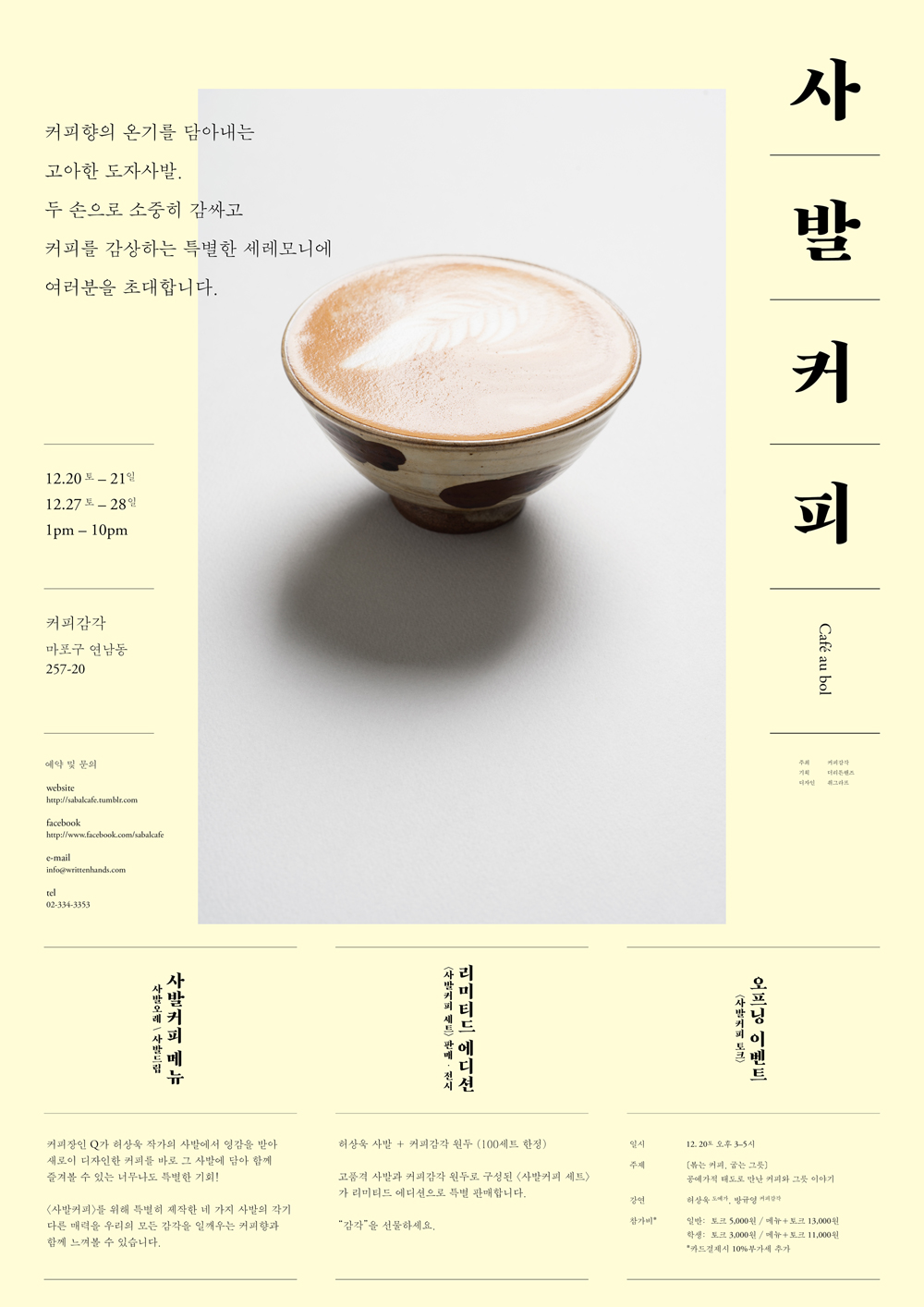 2014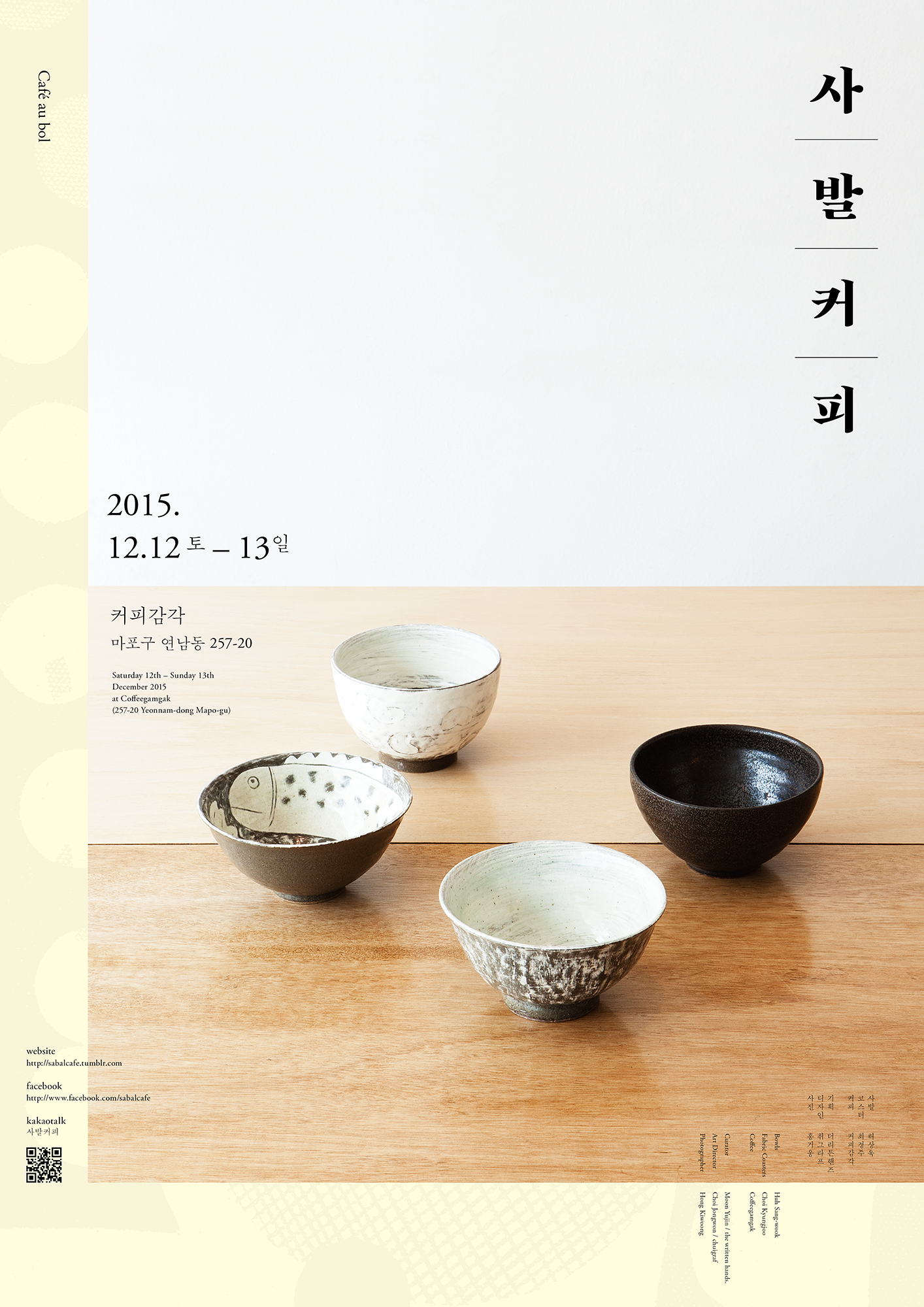 2015
2015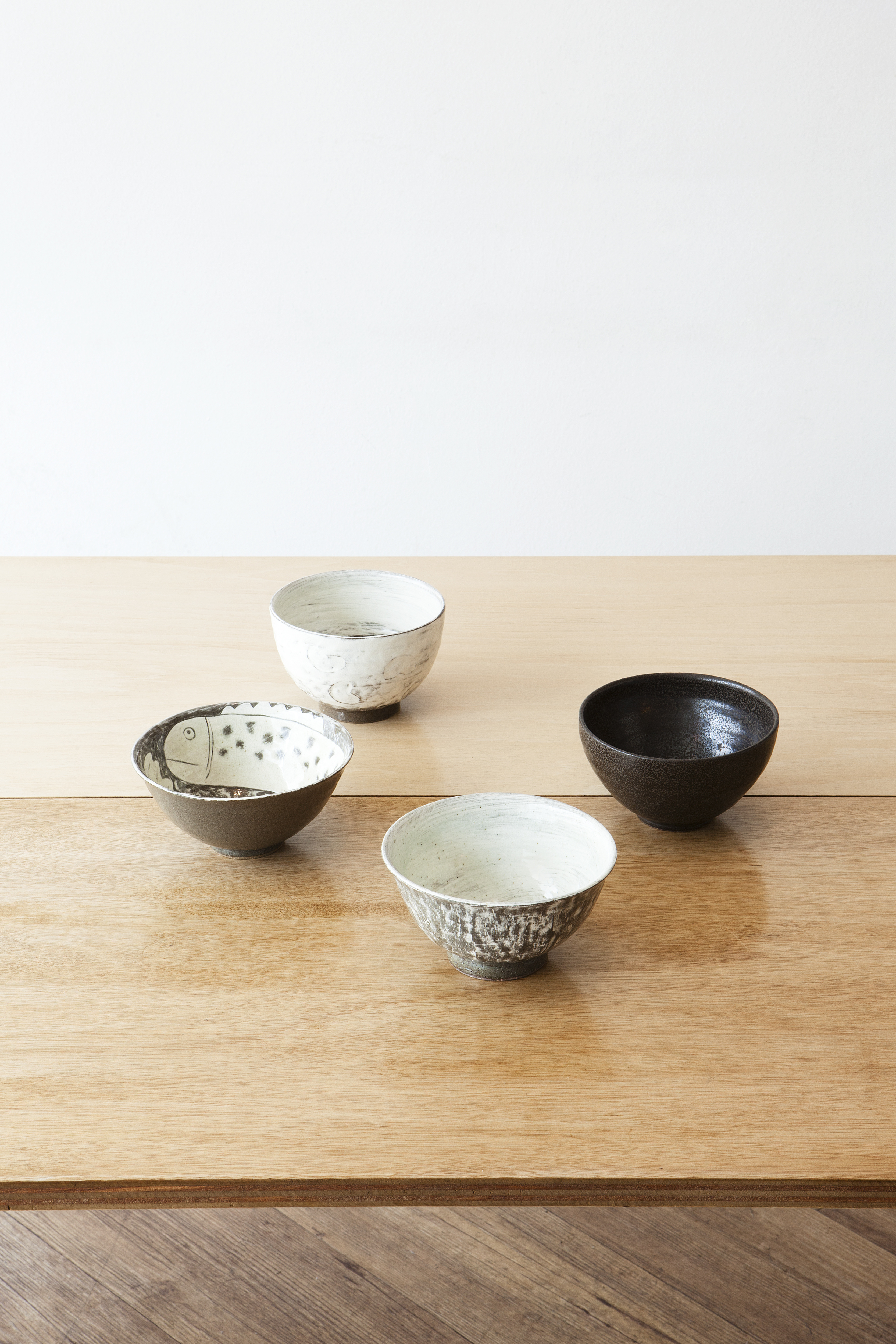 Subsequent to the first edition of Sabalcafé in 2014, the second edition was presented in December, 2015. Along with new version of four different bowls by Huh Sang-wook, this season presented two separate lines of product for the coffee ceremony.
The fourth bowl that exposes the artistic personality of Huh the most is accompanied by debossed pattern paper coasters. Dreaming fishes, one of the most frequent motifs in Huh's work, mostly applied with sgraffito technique(scrapping off the white slip overlay), have been patternized by Chuigraf. In order to express its original texture of sgraffito, Chuigraf applied deboss printing on paper in four different colors that represent the bowl's own materials.
2015 edition's invited artist Choi Kyungjoo has designed and produced four types of silkscreened fabric coasters exclusively for three bowls in the project. Reinterpreting the colors, shapes and the texture of these bowls as layers of formal elements, Choi designed three different patterns that would subsequently be transformed into more than thirty square patterns through random cutting. The energetic arrangement of colors which is one of the natures of Choi's work vivify the coffee ceremony. All this long human story, most passionate and tragic in the living, was but an unimportant, a seemingly barren and negligible effort, lasting only for a few moments in the life of the galaxy. The season also invited a photographer Hong Kiwoong who perfectionized communication materials of the project. Using accurate judgement on the colors and composition of each element of the project, Hong produced synthesized images of the coffee ceremony.

Photo by Hong Kiwoong